Why Insurance Needs a Blockchain Revolution

For most of us, insurance is a necessary evil. The events which trigger insurance payouts are usually unpleasant and disruptive, but having insurance in place prevents them from being catastrophic. Having insurance is now seen as a necessary condition for doing business and a huge global insurance industry has evolved to cater to these needs. The next evolution in insurance may very well be the adoption of blockchain technology.
We, at Arca Labs, view insurance much the same as you. However, ArCoin, digital shares of Arca's US Treasury Fund, offers us hope that insurance will not always be as cumbersome. Just 6 months ago we were able to pioneer the first '40 Act Fund offering digital shares on the blockchain. One of the most promising use cases of ArCoin is working with insurers to innovate within the insurance industry. If blockchain technology is to revolutionize insurance, then there is a need for financial products which will complement this evolving infrastructure. ArCoin, a digital security with a relatively stable value, is the perfect bridge between blockchain and insurance.
The Balancing Act of Insurance
Though the type of insurance may vary, the concept remains unchanged; insurance is a financial safety net. Insurers must maintain liquidity within their insurance pools to guarantee policy holder's payouts can be fulfilled. However, an insurance company would not adequately function if they held all their deposits in cash. Thus, insurance companies walk the fine line of composing a portfolio containing promising investments, liquid assets, and funds to pay out claims.
Paper-based processes can result in inefficiencies for many insurance companies. And policies and claims that are processed over the phone and by paper are subject to human error. The multitude of parties involved in insurance - consumers, brokers, insurers, and reinsurers - compound the inefficiencies of insurance processes.
Insurance Needs Technology's Help
Insurance is an industry primed for blockchain innovation. Immutable ledgers running smart contracts enable insurance contracts to self-execute - if you buy fire insurance and your house burns down, smart contracts could be programmed to payout with minimal human interference or cumbersome claim process. Smart contracts could additionally automate deductions of premiums from a client's wallets, allocate incoming funds to different investment pools and release funds back to a policy holder's wallet. All these processes could be streamlined by blockchain resulting in increased settlement speed and a reduction in costs. A matrix of blockchain's efficiencies can be found below.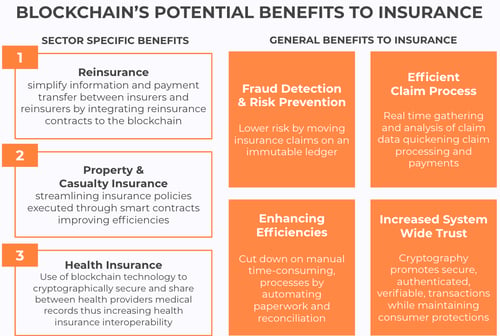 Though insurance companies and startups working with blockchain technology will have to overcome significant regulatory and legal hurdles before we see anything resembling industry-wide disruption, the benefits of doing so are clear.
Where Insurance and ArCoin Hit the Road
The Arca US Treasury Fund, and its corresponding digital shares ArCoin, is an interval fund. The Fund's strategy is to invest 80% of its assets in U.S. Treasuries. Tokenizing this Fund's shares allows the user to invest in the Fund using blockchain which can have a momentous impact on insurance, an industry that widely uses US Treasuries.
How Blockchain Revolutionizes Insurance
● Smart contracts that self-execute
● Faster settlement speed
● Ability to use investable assets as a medium of exchange
The incorporation of blockchain and insurance does not alter the requirements for proper management of policy holder's funds. Insurance companies will need digital solutions like ArCoin that meet investment standards and their own legal hurdles.
ArCoin, additionally can function as both an investable asset and as a medium of exchange. This enables innovations in how insurance companies manage funds. For example, policyholders who select to deposit their premiums using ArCoin can receive the same asset when policies are paid out. Consequently, these funds, in ArCoin, may require fewer conversions for both individuals depositing funds and for insurance companies managing these pools as ArCoin can be used both as a medium of exchange (for insurance holders) and an investment vehicle (for insurers). By removing asset conversion, both parties could benefit from decreased costs.
Insurance is one of many industries that will benefit from integrating ArCoin. When one is dealing with "worst case" scenarios that require multiple steps, multiple players, and something as critical as money, an efficient, and the cost-saving system typically wins in the long run. Once technological advances are implemented, companies and individuals alike could benefit from blockchain's efficiencies. Until then, the Arca Labs team will continue to challenge insurance innovators, engaging with them to build a faster, easier, and safer insurance network.
The ARCA U.S. Treasury Fund is distributed by UMB Distribution Services, Member FINRA / SIPC.