Announcing Our New Relationship with Securitize

In July of 2020, after over two years of development, the Arca U.S Treasury Fund (the "Fund") went effective. That event was historic as the Fund became the first fund registered under the Investment Company Act of 1940 (the "'40 Act") to issue its shares on the blockchain. The Fund's shares, which are called ArCoin, are digital asset securities. It was important to create the Arca U.S. Treasury Fund as a closed-end fund under the '40 Act as its structure mirrors that of traditional financial institutions. Other widely known '40 Act products include mutual funds and exchange traded funds (ETFs).
'40 Act products require various service providers to run the day-to-day operations of the fund, but having the right service partners is of utmost importance to a first-to-market, innovative product. This means assembling a team of experienced partners who share the same vision and values as us. Two weeks ago, we accomplished this when Securitize became the transfer agent ("TA") to the Fund.
Service Providers to the Arca U.S. Treasury Fund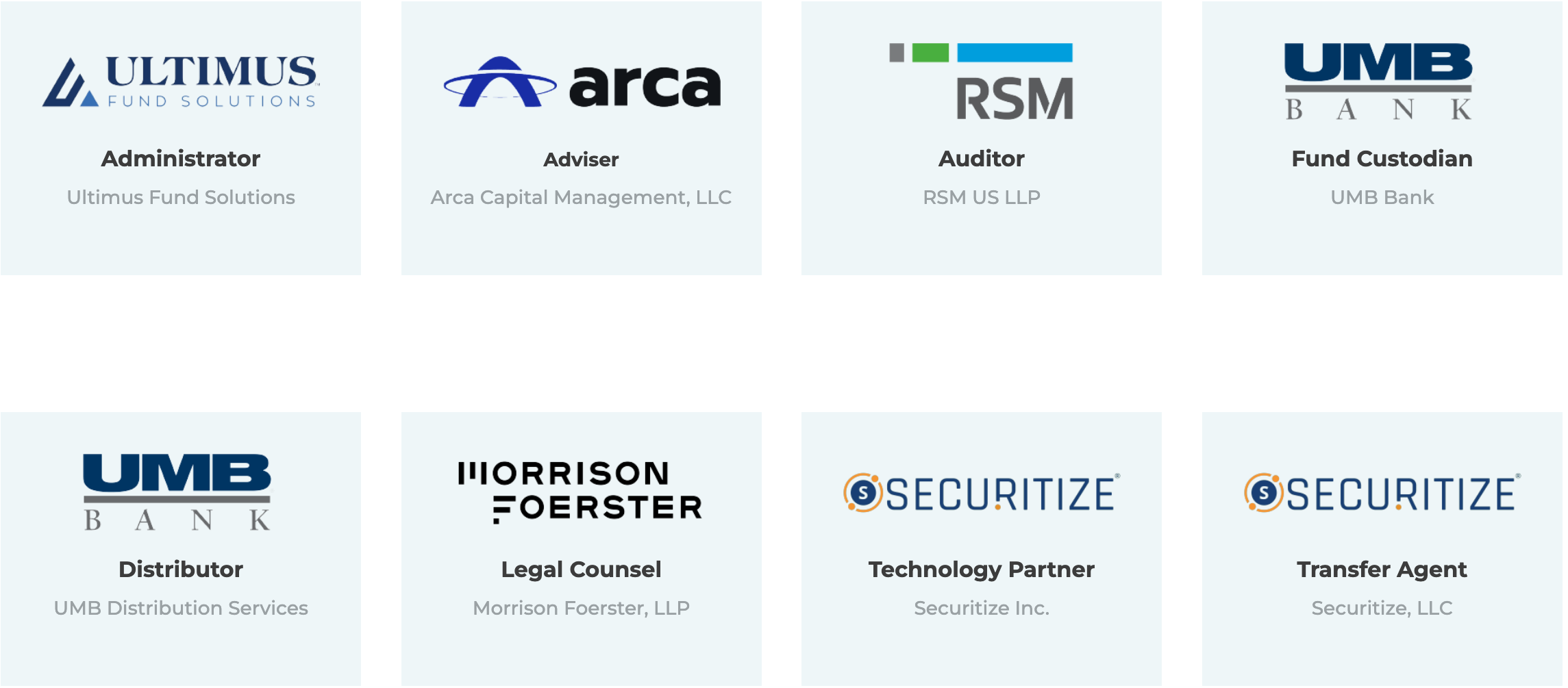 Although we publicly announced our relationship with Securitize two weeks ago, the work to integrate with Securitize began months ago as both teams prepared for the Fund's transfer agent transition. The collective teams worked in lockstep in an effort to ensure that the user experience was simple and investor-friendly and that the functionality for the web portal was enhanced. In preparation for the transition, a new smart contract for ArCoin was deployed to leverage Securitize's DS Protocol. ArCoin's former smart contract was decommissioned, user profiles were re-established through Securitize, user flows were re-created and connections to our partners in the ecosystem were re-authenticated - all in preparation for ArCoin to be redeployed to the Fund's shareholders following the transfer agent transition. This incredibly detailed process required the two teams to work closely to ensure that the shareholder master file was transferred successfully and in its entirety and that all Fund shareholders received their reissued ArCoin from Securitize.
With Arca Lab's partnership with Securitize, shareholders of the Arca U.S. Treasury Fund can expect to benefit from:
● Token ownership and history recorded using the highly established Ethereum blockchain
● Investor verification, onboarding, and transfer agency within one seamless experience
● A bespoke investor dashboard and API interfaces tailored to the Fund's shareholders
● A Securitize iD, allowing Fund shareholders the opportunity to participate in more Securitize offerings without additional verification
This transition was made possible due to the hard work of Phoebe, Eric & Will from Securitize as well as Blair and Mike from Arca Labs. We thank them and the greater team for their hard work and efforts in making this transition a success.
Transitioning the Arca U.S. Treasury Fund to Securitize was the first phase of growing our relationship with Securitize. We expect our relationship to grow as we, Arca Labs, and Securitize work together to develop and launch tokenized financial products designed to allow individuals and companies to enter a global, blockchain-based financial future.